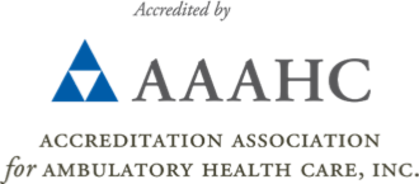 At Utah Surgical Arts, our surgical team provides the finest quality care to our patients in a comfortable and state-of-the-art surgical facility that is accredited by the Accreditation Association for Ambulatory Health Care (AAAHC). AAAHC accreditation requires our practice to maintain the very highest standards, and we are assessed by AAAHC surveyors every few years to ensure that we are meeting those standards. AAAHC surveyors are healthcare professionals with special training to evaluate the safety and comfort of our facility and the quality of the treatments we offer.
Because we perform a broad range of procedures right in our office, we maintain the strict safety standards of a hospital setting in our operating suites, and we utilize the most advanced technology available in our field, including advanced 3D imaging. Drs. Harris, Park, Brown, and Wood are board-certified oral and maxillofacial surgeons and are highly qualified to practice the full scope of oral and facial surgery as well as administer office sedation for procedures in our office.
We are always seeking new and better ways to ensure that our patients feel safe and at ease during treatment at Utah Surgical Arts. We participate in self-evaluations, peer reviews, and ongoing educational programs to challenge ourselves to maximize the quality of the care we offer. Our AAAHC accreditation, as well as our dedication to providing top quality care, ensure that we go beyond your expectations in everything we do and that we maintain an environment that is safe, efficient, comfortable, and modern. It is our pleasure to continue to meet (and exceed) the standards of AAAHC accreditation.