Fully Restore Your Smile with All-on-4
Are you one of the millions of people that are unhappy with the way they look when they smile?
Have you ever tried to hold back a laugh or a smile because you are uncomfortable with the way your teeth look?
Do you lack confidence or avoid certain social situations because of your teeth?
Are you unable to enjoy some of your favorite foods because you have difficulty chewing?
If you answered yes to any of these questions, you are not alone.
Many people are unhappy with their smile. They feel they are losing an uphill battle when it comes to restoring their appearance and oral function. Some are missing multiple teeth. Others have retained their teeth, but the cost of multiple fillings, crowns, bridges, and root canals has become so prohibitive that they are searching for other solutions.

Replacement options may include removable dentures that may be uncomfortable and reduce your ability to chew, or fixed bridges supported by multiple dental implants that become extremely costly and may be aesthetically unpleasing. These procedures usually require numerous appointments, extended healing periods, and often additional procedures such as bone grafting or sinus lifts. If you are struggling to restore your oral function, the doctors at Utah Surgical Arts have a solution for you.
Using the All-on-4 Treatment Concept technique, sometimes called Teeth-in-an-Hour, our skilled surgical team can permanently replace all of the teeth in a single arch. Four specialized implants placed into your upper or lower jaw provide sufficient support for a full arch of teeth. The entire surgical procedure can be completed in one visit, allowing you to experience the aesthetic and functional benefits of your new teeth more quickly than most other restorative procedures. Not only will you experience less post-surgical discomfort, swelling, and bruising, this procedure can be performed at a fraction of the cost of other treatment methods.
At Utah Surgical Arts, our patients experience numerous benefits from choosing this method of treatment, including
Prosthesis Stability: No procedure can restore teeth to the exact strength of your original teeth. However, the All-on-4 Treatment Concept anchors your implants into better quality bone by tilting the posterior implants and increasing the ratio of implant-to-bone contact. This provides extra support for your replacement teeth.
Prosthesis Flexibility: Your replacement teeth will be screwed onto your new implants immediately after your surgery. Unlike other implant procedures that delay the placement of the replacement tooth or teeth, you can begin experiencing the functional and aesthetic benefit of your new teeth right away.
Increased Procedural Efficiency: Your implants and replacement teeth can be placed with just one surgical procedure. Usually, only four implants are required; this minimizes recovery time and mitigates post-surgical side effects such as pain and swelling.
Excellent Clinical Results: The unique placement of your implants reduces the negative side effects of other treatment options, such as relying on existing teeth to support the weight of a denture. The doctors at Utah Surgical Arts employ minimally invasive surgical techniques when placing the implants to ensure that patients experience a successful recovery.

How do I know if I am a candidate for the All-on-4 Treatment Concept?
If you are currently wearing dentures or are about to lose many or all of your teeth, you are a great candidate for this procedure. You may also be a candidate for this procedure if you have the majority of your teeth, but they have fallen into a state of disrepair, and you feel that it is only a matter of time until they need to be extracted. Rather than spending thousands of dollars for a temporary solution, this procedure may be right for you. The majority of patients who have been told that they are not a candidate for a fixed bridge or an implant due to bone loss are still able to undergo the All-on-4 Treatment Concept. If you are interested in determining whether or not this procedure is right for you, we encourage you to call one of our offices. Our skilled surgical team will complete a full oral and medical evaluation to determine the most appropriate plan of treatment to address your individual dental needs.
Where can I get the All-on-4 Treatment Concept in Utah County?
Drs. Harris, Park, Brown, and Wood of Utah Surgical Arts maintain three practice offices located in South Jordan, Provo, and Payson, UT, serving all of Utah County and Salt Lake County and are available to schedule your surgery at any of their locations.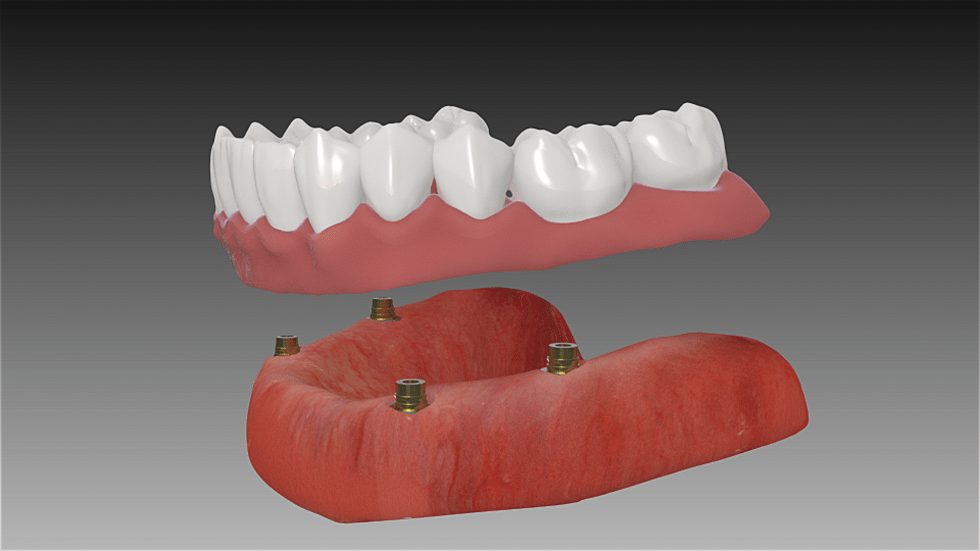 ---
More information about the All-on-4 Treatment Concept and dental implants can be found at:
Wikipedia
YouTube